---
The Editorial & Speak Out Page
---
This page is being created so that you may express your ideas and thoughts. Since this Website was created, I have received some interesting email from former classmates and with this page, thoughts and ideas can be shared. Essentially, this is the place to make your thoughts and ideas known to your fellow classmates.
In posting what you have to say on any subject, I will not alter or edit what you send in to be posted. A couple of you sent in some ideas that you had and this is certainly the place where your fellow classmates can view them and respond in this open forum. All material sent in will be posted as soon as possible.
---
From Mike Beckley, Class of 1966, October 19th, 2001
For those of you who have not been there I would like to start by saying "WAR IS HELL". During the following days into maybe years always remember that there are young people fighting somewhere for our country. They are just like us in that they believe in our country and our values. If you have someone close to you who is there continue to pray for them. My prayers go out to all who may be in harms way. Things happen in our life we may not like but we always make the best of them. This is one of those times. Remember the history of our great country and believe we will come through this stronger than ever. God Bless America and buy made in USA when possible.

Mike Beckley
US ARMY
Class of 66
Vietnam 68-69
From Sean Curtis, May 27th, 2001
Word came to me from Nancy Mashler - Reid, Class of 1967, that her brother, Richard, Class of 1968, passed away. As most of you that frequent this web site know, our Memorial Page just keeps getting larger and larger. For the most part, many of our former classmates that have since passed away, did so because of illness or accidents. There are a few in our Memorial Page that have been victims of homicide. Richard Mashler was a victim of such a senseless act.
On January 10th, 2000, Richard was at his place of business in Port St. Lucie, Florida. Richard had just terminated an employee for cause. The terminated employee, Mario Betancourt, left the business and went to his car. Betancourt picked up a 9MM pistol and returned to the business where he accosted Richard. Betanourt then fired several rounds into Richard killing him instantly. Another employee of Richard's was standing close by and was shot while he was trying to get away and died from his injuries.
Betancourt then told other witnesses that "they'll never ruin my day again" and then fled. Beantourt was arrested on April 6th in Cancun, Mexico by the Mexican National Police and is in Jail in Mexico City. He was on the run for over 460 days before being captured. Now the argument is whether Mexico will extradite him to the United States because Betancourt faces the death penalty in Florida. The fight to bring him back to the Florida goes on as of this date.
As names are added to the Memorial Page, it is with sadness to hear that a former classmate died to an accident, illness or disease. We can accept that a little easier for some reason. When a classmate's life is cut short because of the dastardly deeds of another human, it makes it harder for us to understand and accept. This is something that Richard's family cannot accept and it is painful for them daily.
This is a tough pill to swallow as this was such a senseless loss of life to one of our VHHS Alumni.
---
From Dave Robertson, Class of 1968, February 15th, 2001
Sean, could you put this on the Editorial page, please? I am the author,
so feel free to distribute to anyone you think would be interested.

EARNED, NOT ISSUED

Currently, two young Army Rangers have left Fort Benning, GA to literally
march to the White House and present President Bush with the black beret of
a Ranger killed in action in Panama. This is in reaction to the Army's
new plan to issue black berets to every soldier, regardless of Army branch
or assignment, effective sometime later this year. The green beret of the
Special Forces and the maroon beret of the Airborne forces will remain as
is, but the distinctive black beret of the Rangers will clearly lose it
significance. Loud protests have arisen from all levels of the Army,
however once the decision was made, the soldiers feel that they have
received their orders and now intend to carry them out.
However, this decisions directly flies in the face of the heritage of the
Rangers and their black beret. "EARNED NOT ISSUED" speaks directly to
what it takes to earn one. In addition to the grueling regimen of Ranger
school, the assignments the Rangers carry out are by far the most
challenging, and the most dangerous. From Merril's Marauders in Burma, to
Darby's Rangers on D-Day, to Viet Nam and Panama, the heritage and
therefore the beret is not taken lightly.

I first earned the black beret in 1969 as a member of Ranger Company, Army
ROTC, Jacksonville State University. I still have it. A year later I
earned my Ranger unit crests. I still them as well. Hell, I still have
the t-shirts! And, though never assigned to a regular Army Ranger unit, I
nonetheless completely understand their feelings and strong objections to
this decision. Indeed, the beret was never meant to be a regular issued
item - or at least that's what many of us believe.

If you happen to share this belief, I ask you to contact your people in
Congress and let them know that some things are worth defending. Alot of
Rangers died defending us, perhaps we can take time to defend them now.

My sincerest thanks,
Dave
---
From Dave Robertson, Class of 1968
A SOLDIERS CHRISTMAS
'TWAS THE NIGHT BEFORE CHRISTMAS, HE LIVED ALL ALONE,
IN A ONE BEDROOM HOUSE MADE OF PLASTER AND STONE.

I HAD COME DOWN THE CHIMNEY WITH PRESENTS TO GIVE,
AND TO SEE JUST WHO IN THIS HOME DID LIVE.

I LOOKED ALL ABOUT, A STRANGE SIGHT I DID SEE,
NO TINSEL, NO PRESENTS, NOT EVEN A TREE.

NO STOCKING BY MANTLE, JUST BOOTS FILLED WITH SAND,
ON THE WALL HUNG PICTURES OF FAR DISTANT LANDS.

WITH MEDALS AND BADGES, AWARDS OF ALL KINDS,
A SOBER THOUGHT CAME THROUGH MY MIND.

FOR THIS HOUSE WAS DIFFERENT, IT WAS DARK AND DREARY,
I FOUND THE HOME OF A SOLDIER, ONCE I COULD SEE CLEARLY.

THE SOLDIER LAY SLEEPING, SILENT, ALONE,
CURLED UP ON THE FLOOR IN THIS ONE BEDROOM HOME.

THE FACE WAS SO GENTLE, THE ROOM IN SUCH DISORDER,
NOT HOW I PICTURED A UNITED STATES SOLDIER.

WAS THIS THE HERO OF WHOM I'D JUST READ?
CURLED UP ON A PONCHO, THE FLOOR FOR A BED?

I REALIZED THE FAMILIES THAT I SAW THIS NIGHT,
OWED THEIR LIVES TO THESE SOLDIERS WHO WERE WILLING TO FIGHT.

SOON ROUND THE WORLD, THE CHILDREN WOULD PLAY,
AND GROWNUPS WOULD CELEBRATE A BRIGHT CHRISTMAS DAY.

THEY ALL ENJOYED FREEDOM EACH MONTH OF THE YEAR,
BECAUSE OF THE SOLDIERS, LIKE THE ONE LYING HERE.

I COULDN'T HELP WONDER HOW MANY LAY ALONE,
ON A COLD CHRISTMAS EVE IN A LAND FAR FROM HOME.

THE VERY THOUGHT BROUGHT A TEAR TO MY EYE,
I DROPPED TO MY KNEES AND STARTED TO CRY.

THE SOLDIER AWAKENED AND I HEARD A ROUGH VOICE,
"SANTA DON'T CRY, THIS LIFE IS MY CHOICE;

I FIGHT FOR FREEDOM, I DON'T ASK FOR MORE,
MY LIFE IS MY GOD, MY COUNTRY, MY CORPS."

THE SOLDIER ROLLED OVER AND DRIFTED TO SLEEP, I
COULDN'T CONTROL IT, I CONTINUED TO WEEP.

I KEPT WATCH FOR HOURS, SO SILENT AND STILL
AND WE BOTH SHIVERED FROM THE COLD NIGHT'S CHILL.

I DIDN'T WANT TO LEAVE ON THAT COLD, DARK, NIGHT,
THIS GUARDIAN OF HONOR SO WILLING TO FIGHT.

THEN THE SOLDIER ROLLED OVER, WITH A VOICE SOFT AND PURE,
WHISPERED, "CARRY ON SANTA, IT'S CHRISTMAS DAY, ALL IS SECURE."

ONE LOOK AT MY WATCH, AND I KNEW HE WAS RIGHT.
"MERRY CHRISTMAS MY FRIEND, AND TO ALL A GOOD NIGHT."

This poem was written by a Marine stationed in Okinawa Japan. The following
is his request. I think it is reasonable.....

PLEASE. Would you do me the kind favor of sending this to as many people
as you can? Christmas will be coming soon and some credit is due to our
U.S service men and women for our being able to celebrate these festivities..
Let's try in this small way to pay a tiny bit of what we owe. Make people
stop and think of our heroes, living and dead, who sacrificed themselves
for us. Please, do your small part to plant this small seed.
---
From Dave Robertson, Class of 1968
NOVEMBERS TO REMEMBER

I was discussing the election with my 8th grader, and told him to try and
remember everything he could about these times, because they will be
talking about this for the rest of his life. Ironic that my own 8th grade
November (and I'm sure the same is true for many of you) was even more
memorable - November 1963. We lived in Phoenix at the time, and I remember going home to tell my mother that the President had been shot. She didn't believe me, so we turned on the TV in time to see Chet Huntley giving the word that "the President is dead".

In another odd coincidence, my Dad was in Dallas that day - connecting
flights from Cincinnati to Phoenix. He had been in Lexington, KY (where
we eventually moved in 69 - and where I still live) and was on his way
home. As you might expect, Love field in Dallas was a nightmare, and no
flights were being allowed to leave. Once flights resumed, I think Dad
eventually got home in the wee hours of the following morning.

Being way before the days of cable TV, I recall that there was nothing on
any of the channels except Kennedy coverage for days. Sporting events
were cancelled, etc. and basically the world stopped. I'm sure we still
had a black&white TV, but it seemed that everything was suddenly black,
white, and dull gray. Phoenix wasn't exactly known for its bad winters,
but I've been told this feeling was greatly multiplied in places such as
the Northeast with snow and slush on the ground. To this day, I don't
remember when exactly we went back to school, but I would assume it was not immediately on Monday.

Fast forward a couple of decades and the last "Kennedy connection" for me was that I graduated from the JFK Special Warfare School at Fort Bragg NC in the late 80's. His presence is still evident there in so many ways. How different the world might be today had we not lost JFK and then RFK.......

Dave
---
This is from our old friend and classmate, Major Dave Robertson, U. S. Army (Retired). Dave has been VHHS Friends' editor for information regarding our friends & classmates who lost their lives in the United States Armed Forces.
Subject: MILITARY IS OVERPAID
On 12 Jan, Ms Cindy Williams wrote a piece for the Washington Times denouncing the pay raise(s) coming service members way this year-citing that the stated 13% wage gap was bogus. A young airman from Hill AFB responds to her article below. He ought to get a bonus for this.
I just had the pleasure of reading your column of 12 Jan 00, "Our GIs Earn Enough," and I am a bit confused. Frankly, I'm wondering where this vaunted overpayment is going, because as far as I can tell, it disappears every month between DFAS (The Defense Finance and Accounting Service) and my bank account.
Checking my latest leave and earnings statement (LES), I see that I make $1,117.80, before taxes. After taxes, I take home $874.20. When I run that through Windows' Calculator, I come up with annual salary of $13,413.60 before taxes, and $10,490.40 after.
I work in the Air Force Network Control Center (AFNCC), where I am part of the team responsible for the administration of a 25,000 host computer network. I am involved with infrastructure segment, specifically with Cisco Systems equipment. A quick check of http://www.monster.com under jobs for Network Technicians in the Washington, D.C. area reveals a position in my career field, requiring three years experience with my job. Amazingly, this job does NOT pay $13,413.60 a year, nor does it pay less than this. No, this job is being offered at $70,000 to $80,000 per annum. I'm sure you can draw the obvious conclusions.
Also, you tout increases to Basic Allowance for Housing and Basic Allowance for Sustenance (housing and food allowances, respectively) as being a further boon to an already-overcompensated force. Again, I'm curious as to where this money has gone, as BAH and BAS were both slashed 15% in the Hill AFB area effective in January 00.
Given the tenor your column, I would assume that you have never had the pleasure of serving your country in her armed forces. Before you take it upon yourself to once more castigate congressional and DOD leadership for attempting to get the families in the military's lowest pay brackets off AFDC, WIC, and food stamps, I suggest that you join a group of deploying soldiers headed for Saudi--I leave the choice of service branch up to you. Whatever choice you make, though, opt for the SIX month rotation: it will guarantee you the longest possible time away from your family and friends, thus give you the full "deployment experience."
As your group prepares to board the plane, make sure to note the spouses and children who are saying good-bye to their loved ones. Also take care to note that several families are still unsure of how they'll be able to make ends meet while the primary breadwinner is gone-obviously they've been squandering the vast piles of cash the DOD has been giving them.
Try to deploy over a major holiday; Christmas and Thanksgiving are perennial favorites. And when you're actually over there, sitting in a DFP (Defensive Fire Position, the modern-day foxhole), shivering against the cold desert night, and the flight sergeant tells you that there aren't enough people on shift to relieve you for chow, remember this: Trade whatever MRE you manage to get for the tuna noodle casserole or cheese tortellini, and add Tabasco to everything. Talk to your loved ones as often as you are permitted; It won't nearly be long enough or often enough, but take what you can get and be thankful for it.
You may have picked up on the fact that I disagree with most of the points you present in your op-ed piece. But, tomorrow from Sarajevo, I will defend to the death your right to say it. You see, I am an American fighting man, a guarantor of your First Amendment rights and every other right you cherish. On a daily basis, my brother and sister soldiers worldwide ensure that you and people like you can thumb your collective nose at us, all on a salary that is nothing short of pitiful and under conditions that would make most people cringe. We hemorrhage our best and brightest into the private sector because we can't offer the stability and pay of civilian companies.
And you, Ms. Williams, have the gall to say that we make more than we deserve?
Rubbish.
A1C Michael Bragg, Hill AFB, AFNCC
---
From Patricia McCaskill - August 23rd, 2000
Recently, reading the editorial page at our alma mater site and receiving seemingly more and more, a slew of emails from friends and online friends..covering everything from sending all your contacts emails to get free gifts, money,and even company stocks!!.. body parts such as kidneys being taken from forcibly anesthetized persons, to KFC selling lab created bio gunk, instead of chicken, to HIV infected needles in everything from McDonalds play area balls to gas pumps/public telephones. Warnings of Febreze that will kill your pets & human children, class project chain mail letters, bogus virus' (even ones that can actually kill humans). Taxes on our emails and icq, aol message services.

As of late many mailings are in regards to well-known persons such as mel
gibson, janet reno, michael jordon, jane fonda,etc.

When you receive such mailings, THINK! The internet is a wonderful tool to
research, gain knowledge, and interact with online and r/t friends. But, like
any community it has it's good people and it's bad. Sadly it seems,many are all too ready to jump on the rumor and hate mongering wagon, or when it seems easy money is offered.

The following is just one online address that enables you to research the
facts, or find sources to confirm the falsehood or truth about what you read
or hear.
http://urbanlegends.about.com/science/urbanlegends//


There are many other sites, if you simply enter 'urban legends' in your search engine you will be given a lengthy list from which to choose.

Let's keep the internet a positive experience!!!

---
Earlier, there were some comments about Jane Fonda and her visit to North Viet Nam in the late 1960's. Memorial Day has passed but we do have the 4th of July coming up. In my opinion, Jane Fonda is a traitor to this nation that gave her privileged status. Thanks to her father, Henry Fonda, I believe that she was spared prosecution. I recently read where she now regrets making the trip to North Viet Nam and that she is a born again Christian. I hope that she tells that to the families that she damaged by her visit to the Hanoi Hilton.
Here is Hanoi Jane "manning" an anti aircraft gun used to bring down U. S. Aircraft during a visit to North Viet Nam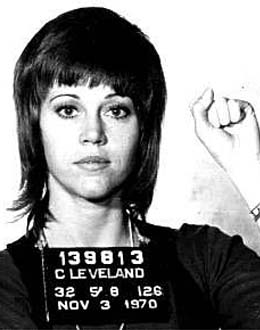 Here is Jane Fonda as she is booked for inciting a riot in Cleveland, Ohio. The charges were later dropped. Surprising huh?
---
From Major Dave Robertson, USA (Ret) & Class of 1968
This, from a Canadian newspaper, is worth sharing.
America: The Good Neighbor
"This Canadian thinks that it is time to speak up for the Americans as the most generous and possibly the least appreciated people on all the earth.
Germany, Japan, and to a lesser extent, Britain and Italy, were lifted out of the debris of war by the Americans who poured in billions of dollars and forgave other billion in debts. None of these countries today paying even the interest on its remaining debts to the United States.
When France was in danger of collapsing in 1956, it was the Americans who propped it up, and their rewards was to be insulted and swindled on the streets of Paris. I was there. I saw it.
When earthquakes hit distant cities, it is the United States that hurries in to help. This spring, 59 American communities were flattened by tornadoes. Nobody helped.
The Marshall Plan and the Truman Policy pumped billions of dollars into discouraged countries. Now newspapers in those countries are writing about the decadent, warmongering Americans
I'd like to see just one of those countries that is gloating over the erosion of the United States dollar build its own airplane. Does any other country in the world have a plane equal to the Boeing Jumbo jet, the Lockheed Tri-Star, or the Douglas DC10? If so, why don't they fly them? Why do all International lines, except Russia fly American planes?
Why does no other land on earth even consider putting a man or woman on the moon? You talk about German technology, and you get automobiles.
You talk about American technology, and you find men on the moon - not once, but several times - and safely home again.
You talk about scandals, and the Americans put theirs right in the store window for everybody to look at.
Even the draft - dodgers are not pursued and hounded. The are here on our streets, and most of them, unless they are breaking Canadian laws, are getting American dollars from ma and pa at home to spend here.
When the railways of France, Germany, and India were breaking down through the age, It was the Americans who rebuilt them. When the Pennsylvania Railroad and the New York central went broke, nobody loaned them an old caboose. Both are still broke.
I can name you 5000 times when the Americans raced to the help of other people in trouble. Can you name me even one time when someone else raced to the Americans in trouble? I don't think that there was outside help during the San Francisco earthquake.
Our neighbors have faced it alone, and I am one Canadian who is damned tired of hearing them get kicked around. They will come out of this thing with their flag high. And when they do, they are entitled to thumb their nose at the lands that are gloating over their own troubles. I hope that Canada is not one of those".
Stand PROUD, America!
Wear it PROUDLY!
By Gordon Sinclair, Canadian Television Commentator
Editor's note: I remember this recording when it came out in 1974 when the US was still in the middle of the Watergate Affair. That recording by the Late Gordon Sinclair was a hit that played on just about every radio station from Rock & Roll to Country. Thanks Dave for sending that down as we approach Memorial Day.
---
From Steve Latauska, Class of 1967
Hope you all appreciate this as much as I did!


Some veterans bear visible signs of their service: a missing limb, a jagged
scar, a certain look in the eye. Others may carry the evidence inside them:
a pin holding a bone together, a piece of shrapnel in the leg - or perhaps
another sort of inner steel: the soul's ally forged in the refinery of
adversity. Except in parades, the men and women who have kept America safe
wear no badge or emblem.

You can't tell a vet just by looking.

What is a vet?

* He is the cop on the beat who spent six months in Saudi Arabia sweating
two
gallons a day making sure the armored personnel carriers didn't run out of
fuel.

* He is the barroom loudmouth, dumber than five wooden planks, whose
overgrown frat-boy behavior is outweighed a hundred times in the cosmic
scales by four hours of exquisite bravery near the 38th parallel.

* She - or he - is the nurse who fought against futility and went to sleep
sobbing every night for two solid years in Da Nang. He is the POW who
went
away one person and came back another - or didn't come back AT ALL.

* He is the Quantico drill instructor that has never seen combat - but has
saved countless lives by turning slouchy, no-account rednecks and gang
members into Marines, and teaching them to watch each other's backs.

* He is the parade-riding Legionnaire who pins on his ribbons and medals
with
a prosthetic hand.

* He is the career quartermaster who watches the ribbons and medals pass him
by.

* He is the three anonymous heroes in The Tomb Of The Unknowns, whose
presence at the Arlington National Cemetery must forever preserve the memory
of all the anonymous heroes whose valor dies unrecognized with them on the
battlefield or in the ocean's sunless deep.

* He is the old guy bagging groceries at the supermarket - palsied now and
aggravatingly slow - who helped liberate a Nazi death camp and who wishes
all
day long that his wife were still alive to hold him when the nightmares
come.

* He is an ordinary and yet an extraordinary human being a person who
offered
some of his life's most vital years in the service of his country, and who
sacrificed his ambitions so others would not have to sacrifice theirs.

* He is a soldier and a savior and a sword against the darkness, and he is
nothing more than the finest, greatest testimony on behalf of the finest,
greatest nation ever known.

So remember, each time you see someone who has served our country, just lean
over and say Thank You. That's all most people need, and in most cases it
will mean more than any medals they could have been awarded or were awarded.

Two little words that mean a lot, "THANK YOU".

Remember November 11th is Veterans Day................

"It is the soldier, not the reporter, Who has given us freedom of the press.

It is the soldier, not the poet, Who has given us freedom of speech.

It is the soldier, not the campus organizer, Who has given us the freedom to
demonstrate.

It is the soldier, Who salutes the flag, Who serves beneath the flag and
whose coffin is draped by the flag, Who allows the protester to burn the
flag."


- Father Denis Edward O'Brien, USMC


---

From Dave Robertson, Class of 1968
It was the Spring of 1961. While most 11 year old boys were "playing
Army" by defeating the Germans or Japanese, my friends and I were soundly
defeating invading Yankees in the thick woods surrounding our Atlanta
homes. It was the Centennial celebration of the War of Northern
Oppression - or what the rest of the country called The Civil War.
Atlanta was filled with parades, speeches, and much reminiscing about "the
War". War was a glorious adventure, an honorable and noble calling. No
one bled, no one died, and we were all home for supper and homework.

Seven short years later - graduation day 1968 - the "real world" truth
was painfully clear in Southeast Asia. But thankfully we were still
young, immortal, adventurous, and naive. So, 30 years late: To Doc (and
Julie) McHam, to Bill Fesler, to Randy Zahn (just to name a few), to our
classmates on the memorial page who gave all, in fact to all our veterans
and families. Thank you!

Fifty years late: To our fathers, mothers, uncles and aunts that freed the
world during World War II by way of Guadalcanal, Normandy, Berlin and
Tarawa. Thank you!

Those that have never visited West Point, Arlington, or The Wall have no
idea of the magnitude of what you collectively have done through all the
wars and all the years. While perhaps not an adventure, the honor and
nobility of your service and sacrifice should never be forgotten.
Duty, Honor, Country. Thank you!

Dave Robertson


---
From Kathy Newlon
The Final Inspection


The policeman stood and faced his God, which must always come to pass.
He hoped his shoes were shining just as brightly as his brass.
"Step forward now, policeman. How shall I deal with you?
Have you always turned the other cheek? To my church have you been true?
The policeman squared his shoulders and said. "No, I guess I haven't
because those of us who carry a badge can't always be a Saint."
I've had to work most Sundays and at times my talk is rough,
and sometimes I've been violent, because the streets are awfully tough.
But I never took a penny that wasn't mine to keep...
though I worked a lot of overtime when the bills got too steep.
And I never passed a cry for help though at times I shook with fear,
and sometimes, God forgive me, I've wept unmanly tears.
I know I don't deserve a place among the people here.
They never wanted me around except to calm their fear.
If you've a place for me here, Lord, it needn't be so grand,
I never expected or had too much, but if you don't...I'll understand"
There was a silence all around the throne where the Saints had often
trod. As the policeman waited quietly for the judgment of his God.
"Step forward now, policeman. You've borne your burdens well.
Come walk a beat on Heaven's streets. You've done your time in Hell"
---
From Steve Latauska
Hi all:

I lost a good friend to lung cancer just last week. The sudden death was a
surprise, and there was so much more I wish I could have said and done. I
hope you get as much from the attached article as I did.

- Steve

=============================================================

IF I HAD MY LIFE TO LIVE OVER - by Erma Bombeck

I would have talked less and listened more.

I would have invited friends over to dinner even if the carpet was stained, or the sofa faded.

I would have eaten the popcorn in the 'good' living room and worried much
less about the dirt when someone wanted to light a fire in the fireplace.

I would have taken the time to listen to my grandfather ramble about his
youth.

I would never have insisted the car windows be rolled up on a summer day
because my hair had just been teased and sprayed.

I would have burned the pink candle sculpted like a rose before it melted
in storage.

I would have sat on the lawn with my children and not worried about grass
stains.

I would have cried and laughed less while watching television-and more
while watching life.

I would have shared more of the responsibility carried by my husband.

I would have gone to bed when I was sick instead of pretending the earth
would go into a holding pattern if I weren't there for the day.

I would never have bought anything just because it was practical,
wouldn't show soil, or was guaranteed to last a lifetime.

Instead of wishing away nine months of pregnancy, I'd have cherished
every moment and realized that the wonderment growing inside me was the only
chance in life to assist God in a miracle.

When my kids kissed me impetuously, I would never have said, "Later. Now
go get washed up for dinner."

There would have been more "I love you's".. more "I'm sorry's" ....but
mostly, given another shot at life, I would seize every minute...look at
it and really see it ... live it...and never give it back.

Stop sweating the small stuff. Don't worry about who doesn't like you,
who has more, or who's doing what.

Instead, let's cherish the relationships we have with those who do love
us.

Let's think about what God HAS blessed us with.

And what we are doing each day to promote ourselves mentally, physically,
emotionally, as well as spiritually.

Life is too short to let it pass you by.
We only have one shot at this and then it's gone.

* * .. * .
In memory of Erma Bombeck, who lost her fight with cancer
Editor's note: What Steve sent in above, certainly hits close to home for so many of us. It appears that life is way too short and the above message is certainly appropriate.
---
The Whole World Is Watching
Sent in by Patricia McCaskill on September 6th
I recall when I first read the dedication page on the VHHS, site, and thought, "how sad, but especially for the ones lost in Vietnam, we don't know what horrors they saw or went through". I will be honest, and say I was against the war from the start, and my protests were for sending young boys, blindly into a "no win' situation. As the bumper stickers read back then ,"War is good business, invest your sons",nowadays daughters aren't safe either.(but then, they have never been 'safe' in a war zone). Our generation grew up with "The Bomb" drop drills, Bomb Shelters, The Great Red threat, etc. The world was more easily divided in those days...country against country, race against race, religion against religion....the world is growing smaller and with the advent of modern technology, increasingly so! I just finished reading about the young girl Bejtillahu (known initially as Adona to protect her and her family from reprisals upon releasing her emails) who reported via email, the atrocities occurring in Kosovo and surrounding areas. Increasingly, corrupt governments, officials, those in positions of 'power' over the civilian population are being exposed for what they are, due to the general populace and the use of such technology as video cams, pc's, 'live' reporting while said atrocities are taking place (and bless those that are brave enough to stand their ground to deliver these revelations to the eyes and ears of the world.)
As the saying was then, "The Whole World is Watching", and it is, even more so today!
---
Sent in by Randy Zahn
"Mommy"

Johnny brought a gun to school,
He told his friends that it was cool,
And when he pulled the trigger back,
It shot with a great crack.
Mommy, I was a good girl, I did
what I was told,
I went to school, I got straight As',
I even got the gold!
But Mommy, when I went to school that day,
I never said goodbye,
I'm sorry Mommy, I had to go,
But Mommy, please don't cry.
When Johnny shot the gun,
He hit me and another,
And all because Johnny,
Got the gun from his older brother.
Mommy, please tell Daddy;
That I love him very much,
And please tell Chris; my boyfriend;
That it wasn't just a crush.
And tell my little sister;
That she is the only now,
And tell my dear sweet Grandmother;
I'll be waiting for her now,
And tell my wonderful friends;
That they always were the best,
Mommy, I'm not the first,
I'm no better then the rest.
Mommy, tell my teachers;
I won't show up for class,
And never to forget this,
And please don't let this pass.
Mommy, why'd it have to be me?
No one deserves this,
Mommy, warn the others,
Mommy, I left without a kiss.
And Mommy, tell the doctors;
I know they really did try,
I think I even saw a doctor,
Trying not to cry.
Mommy, I'm slowly dying,
With a bullet in my chest,
But Mommy, please remember,
I'm in heaven with the rest.
Mommy, I ran as fast as I could,
When I heard that crack,
Mommy, listen to me if you would,
I'm not coming back.
I wanted to go to college,
> I wanted to try things that were new,
I guess I'm not going with Daddy;
On that trip to the new zoo.
I wanted to get married,
I wanted to have a kid,
I wanted to be an actress,
Mommy, I wanted to live.
But Mommy, I'm must go now,
The time is getting late,
Mommy tell my boyfriend,
I'm sorry, but I had to cancel the date.
I love you Mommy, I always have,
I know; you know it's true,
And Mommy all I wanted to say is,
"Mommy, I love you!"

---
The following is what one of our former classmates sent to me regarding an incident during the Viet Nam War which so many of us remember. This WebSite has a Viet Nam Memorial Page that contains the names of many of our friends and former classmates that paid the ultimate price in serving the United States.
When I put this page up, I said that I would not edit or alter the content of your thoughts and words. These are the statements of some former POW's and because it was submitted from an alumni, it is posted.
The following is in regards to the infamous visit of actress Jane Fonda to North Viet Nam. I was a junior at VHHS when this trip took place.
Sean Curtis
The first part of this is from an F-4E pilot. The pilot's name is Jerry
Driscoll, a River Rat.

Folks,

There are few things I have strong visceral reactions to, but Jane Fonda's
participation in what I believe to be blatant treason, is one of them. Part
of my conviction comes from exposure to those who suffered her attentions.

In 1978, the Commandant of the USAF Survival School was a former POW in Ho
Lo Prison-the "Hanoi Hilton". Dragged from a stinking cesspit of a cell,
cleaned, fed, and dressed in clean PJs, he was ordered to describe for a
visiting American "Peace Activist" the "lenient and humane treatment" he'd
received. He spat at Ms. Fonda, was clubbed, and dragged away. During the
subsequent beating, he fell forward upon the camp Commandant's feet,
accidentally pulling the man's shoe off-which sent that officer berserk. In
'78, the AF COL still suffered from double vision-permanently grounding
him-from the Vietnamese COL's frenzied application of wooden baton.

>From 1983-85, COL Larry Carrigan was 347FW/DO (F-4Es). He'd spent 6 years
in the "Hilton"-the first three of which he was "missing in action". His
wife lived on faith that he was still alive. His group, too, got the
cleaned/fed/clothed routine in preparation for a "peace delegation" visit.
They, however, had time and devised a plan to get word to the world that
they still survived. Each man secreted a tiny piece of paper, with his SSN
on it, in the palm of his hand. When paraded before Ms. Fonda and a
cameraman, she walked the line, shaking each man's hand and asking little
encouraging snippets like: "Aren't you sorry you bombed babies?" and "Are
you grateful for the humane treatment from your benevolent captors?"

Believing this HAD to be an act, they each palmed her their sliver of paper.
She took them all without missing a beat. At the end of the line and once
the camera stopped rolling, to the shocked disbelief of the POWs, she turned
to the officer in charge...and handed him the little pile. Three men died
from the subsequent beatings. COL Carrigan was almost number four.

For years after their release, a group of determined former POWs including
COL Carrigan, tried to bring Ms. Fonda and others up on charges of treason.
I don't know that they used it, but the charge of "Negligent Homicide due to
Depraved Indifference" would also seem appropriate. Her obvious "granting
of aid and comfort to the enemy", alone, should've been sufficient for the
treason count. However, to date, Jane Fonda has never been formally charged
with anything and continues to enjoy the privileged life of the rich and famous.

I, personally, think that this is shame on us, the American Citizenry. Part
of our shortfall is ignorance: most don't know such actions ever took place.
Thought you might appreciate the knowledge. Most of you've probably already
seen this by now... only addition I might add to these sentiments is to
remember the satisfaction of relieving myself into the urinal at some
airbase or another where "zaps" of Hanoi Jane's@#&#$% face had been applied.

To whom it may concern:

I was a civilian economic development advisor in Viet Nam, and was captured
by the North Vietnamese communists in South Viet Nam in 1968, and held for
over 5 years. I spent 27 months in solitary confinement, one year in a cage
in Cambodia, and one year in a "black box" in Hanoi. My North Vietnamese
captors deliberately poisoned and murdered a female missionary, a nurse in a
leprosarium in Ban me Thuot, South Vietnam, whom I buried in the jungle near
the Cambodian border. At one time, I was weighing approximately 90 lbs. (My
normal weight is 170 lbs.).

We were Jane Fonda's "war criminals." When Jane Fonda was in Hanoi, I was
asked by the camp communist political officer if I would be willing to meet
with Jane Fonda. I said yes, for I would like to tell her about the real
treatment we POWs were receiving, which was far different from the treatment
purported by the North Vietnamese, and parroted by Jane Fonda, as "humane
and lenient." Because of this, I spent three days on a rocky floor on my
knees with outstretched arms with a piece of steel rebar placed on my hands,
and beaten with a bamboo cane every time my arms dipped.

I had the opportunity to meet with Jane Fonda for a couple of hours after I
was released. I asked her if she would be willing to debate me on TV. She
did not answer me, her husband, Tom Hayden, answered for her.

She was mind controlled by her husband. This does not exemplify someone who
should be honored as "100 Years of Great Women."

After I was released, I was asked what I thought of Jane Fonda and the
anti-war movement. I said that I held Joan Baez's husband in very high
regard, for he thought the war was wrong, burned his draft card and went to
prison in protest. If the other anti-war protesters took this same route,
it would have brought our judicial system to a halt and ended the war much
earlier, and there wouldn't be as many on that somber black granite wall
called the Vietnam Memorial. This is democracy. This is the American way.

Jane Fonda, on the other hand, chose to be a traitor, and went to Hanoi,
wore their uniform, propagandized for the communists, and urged American
soldiers to desert. As we were being tortured, and some of the POWs
murdered, she called us liars. After her heroes-the North Vietnamese
communists-took over South Vietnam, they systematically murdered 80,000
South Vietnamese political prisoners May their souls rest on her head
forever.
---
Sent in by Steve Latauska - August 17th, 1999
The following is a quote from Janet Reno on a Sixty Minutes interview on
6/26/99.

Regardless of your religious affiliation-this is what your governmental
leaders think of you.

=======================================================

Subject: Alarming Statement from Janet Reno

"A cultist is one who has a strong belief in the Bible and the Second
Coming of Christ; who frequently attends Bible studies; who has a high level of financial giving to a Christian cause; who home schools for their
children; who has accumulated survival foods and has strong belief in the
Second Amendment; and who distrusts big government.

Any of these may qualify a person as a cultist but certainly more than one
of these would cause us to look at this person as a threat and his family as
being in a risk situation that qualifies for government interference."

Janet Reno, Attny. General, USA
Interview on 60 Minutes
June 26, 1999

Do you qualify?

Are you (as defined by the US Attorney General) a threat?
This concerns me. Does it bother you? Everyone in this country - "The land of the free" with computer access should copy this and send to every other man, woman and child who can read.

Why is it that we aren't compelled to respond strongly to such words?
---
It Was Never Like This At VHHS In The 1960's
On August 10th, a gunman loaded with weapons open fired on some little children at the Jewish Community Center in the San Fernando Valley and in cold blood, shot and killed a Post Office Letter Carrier. This is really just a stone's throw from Sunland - Tujunga but it could have been anyplace.
When this tragedy took place I was thinking that during my tenure at Verdugo, I never did recall any problems with the kids and race problems. Verdugo was not all white as I recall. I recall that we were a school that had a mix of Hispanics, Asians and a smattering of others that all seemed to get along well.
Within a few blocks of each other, we had a Synagogue, Catholic Church, and Episcopal Church. I always thought at the time that we were all different but also the same as we respected each other and accepted each other.
Over the years, the reputation of Sunland - Tujunga has changed. During the time that I lived there, and that was from 1954 -1968, I had friends and acquaintances from different backgrounds and religions.
What I am trying to say is that during our time in school at VHHS we were all taught to get along with one another and that came pretty much from home. We had accepted all of our classmates for who and what they were and it was my observation that we all looked beyond skin color and religion. Considering that our generation had been called many things, racists at VHHS during that time period cannot be one of them. Like Martin Luther King once said, about judging the content of one's character and heart instead of one's skin color, I believe that we did that and we are a lot better for it too.
What that suspect in the shooting of the children and the killing of the Post Office Letter Carrier did, was bring all of us down another step on the ladder.
These are my thoughts for the day...... I welcome yours
Sean Curtis - August 12th
---
From Bill Fesler
As you look at the U.S.M.C Emblem below, you will notice that there is a little banner being held in the eagle's beak. That banner carries the words Semper - Fidelis.
Having been in the Marine Corps---there is a saying that you all may have heard at one time or another---and it's this---Semper-Fi---
Well, that is short for Semper Fidelis---which is latin and means "Always Faithful" so we marines have always ran around and said Semper-Fi and it is true: Once a Marine--Always a Marine ! The Pride--Courage and Spirit of the Corps and the motto we had of: ,One For All and All For One is how I feel about my school. Like the Beach Boys sang in there song Be True To Your School --I get the chills when I think about ! RIGHT ON VERDUGO ! GO GO GO---
--Just a crazy fellow alumni--
---Bill Fesler (Surfer-Bill)---
mail: feslerwt@gte.net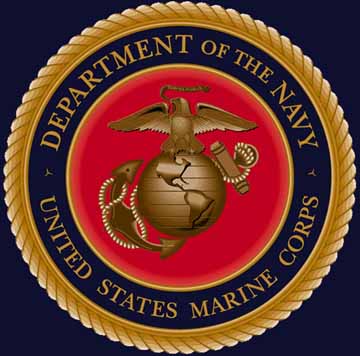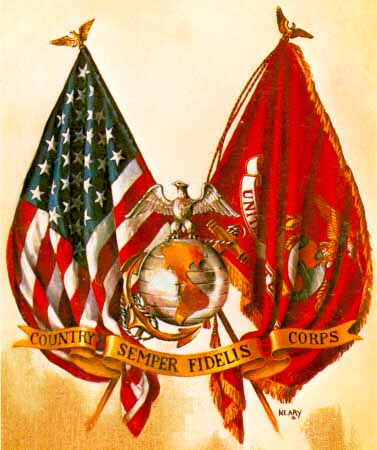 Semper Fidelis, as most of you know, means Always Faithful
Bill, I believe that your thoughts are shared by many that attended Verdugo Hills High School during OUR Generation. These pictures are for you MARINE!
Sean Curtis - August 13, 1999
---
[ Jeanne Ball - Reinhardt ] [ Ray Berndt ] [ Barbara Biglay ] [ Paula Broffman - Wilkes ] [ Jaime Conrad - Steele ] [ Bob Cook ] [ Jack D. Cooke ] [ Sean Curtis ] [ Sue DIllingham ] [ Christine Elliott - Roskilly ] [ Julie Fay ] [ Twila Fay - DeHass ] [ Bill Fesler ] [ Sharon Forbes - Mertens ] [ Steve Garrison ] [ Sharon Gibson - Pike ] [ William Grantham ] [ Karen Haaversen ] [ James Hoggatt ] [ Bill Hogue ] [ Debbie Howland ] [ Denise Jensen - Jackson ] [ Brenda Krassie - Clevenger ] [ Alan LaGreen ] [ Mike Latauska ] [ Steven A. Latauska ] [ Janice Allen - Lewandowski ] [ Henry "Hank" Lewandowski ] [ Madolyn Line - Nix ] [ Sherrie London ] [ Thomas MacCalla ] [ John Martinson ] [ Nancy Mashler - Reid ] [ Dawn McBee - Timmerman ] [ Patricia McCaskill ] [ Cathy Moody - Weckmann ] [ Rebecca Moody - Thomson ] [ Vivian Nunley - Schwartz ] [ Jose Ortiz ] [ Nadesan Permaul ] [ Sue Petrie ] [ Emily Pitt ] [ Jackie Puntar - Latauska ] [ Dave Robertson ] [ Chuck Schwartz ] [ Larry Schwartz ] [ Jenny Skogen - Manders ] [ Terry Thomson ] [ Kay Turner - Waggoner ] [ Ronald Turner ] [ David Walker ] [ Steve Walker ] [ Kathleen Weatherwax ] [ Martin"Marty" Weatherwax ] [ Kathy Weiczorek - Cleary ] [ Denise Welch - Van Eps ] [ Wendy Wexler ] [ Debbi White - Simpson ] [ Terry Whitaker ] [ Randy Zahn ] [ Editorial & Speak Out Page ] [ Alumni Bulletin Board ] [ Hits of the 1960's ] [ Jokes, Quotes & Sayings Page ] [ Memorial Page ] [ Picture Memorial Page 1 ] [ Picture Memorial Page 2 ] [ Picture Memorial Page 3 ] [ Picture Memorial Page 4 ] [ Vietnam Memorial Page ] [ Sunland Park Memorial Cleaned Up ] [ Dedications Section ] [ Nostalgia Page 1 ] [ Nostalgia Page 2 ] [ Nostalgia Page 3 ] [ Nostalgia Page 4 ] [ Nostalgia Page 5 ] [ Remember When? ] [ Remember When? Page 2 ] [ Remember When? Page 3 ] [ Remember When? Page 4 ] [ Remember When? Page 5 ] [ Remember When? Page 6 ] [ Remember When? Page 7 ] [ Remember When? Page 8 ] [ Remember When? Page 9 ] [ Remember When? Page 10 ] [ Remember When? Page 11 ] [ Remember When? Page 12 ] [ Remember When? Page 13 ] [ Novembers To Remember ] [ Our Teachers ] [ Our Teachers Page 2 ] [ Our Teachers Page 3 ] [ Our Teachers Page 4 ] [ Our Teachers Page 5 ] [ Our Teachers Page 6 ] [ Our Teachers Page 7 ] [ Our Teachers Page 8 ] [ Prom & Miscellaneous Picture Page ] [ Prom Pictures Page 2 ] [ Prom Pictures Page 3 ] [ Class of 1968 Reunion Picture Pages ] [ Class of 1969 Reunion Picture Pages ] [ Special Friends Of Our Classmates Section ] [ VHHS & Tujunga Today Page 1 ] [ A Trip Up Foothill Blvd Page 1 ] [ VHHS Class Plaques 1939 - 1961 Page 1 ] [ VHHS "Winter" Class Plaques 1939 - 1961 Page 1 ] [ Remembering 1968 Page 1 ] [ June 22nd, 1967 La Yuca Page 1 ] [ June 12, 1968 La Yuca Page 1 ] [ Record Ledger Clippings Page 1 ] [ 1967 Senior Wills Page 1 ] [ A Picture of Old Sunland - Tujunga ] [ A Very Special Reunion ] [ Attack On America Page 1 ] [ Ground Zero - New York Page 1 ] [ Veterans Day 2001 ] [ Classic Los Angeles Radio 1960's ] [ Some More Memories Page 1 ] [ VHHS 1950's Page 1 ] [ VHHS 1952 Page 1 ] [ VHHS 1952 Page 2 ] [ VHHS 1952 Page 3 ] [ VHHS 1956 Page 1 ] [ VHHS 1957 Page 1 ] [ 1952 Teachers Page 1 ] [ 1952 Teachers Page 2 ] [ 1952 Teachers Page 3 ] [ 1952 Teachers Page 4 ] [ 1952 Teachers Page 5 ] [ 1952 Teachers Page 6 ] [ 1952 Teachers Page 7 ] [ 1952 Teachers Page 8 ] [ 1952 Teachers Page 9 ] [ 1952 Teachers Page 10 ] [ 1952 Teachers Page 11 ] [ 1970 Grad Pictures Page 1 ] [ The WALL Page 1 ]