---
Kathy Weiczorek - Cleary
Class of 1966
---
Hi Everyone!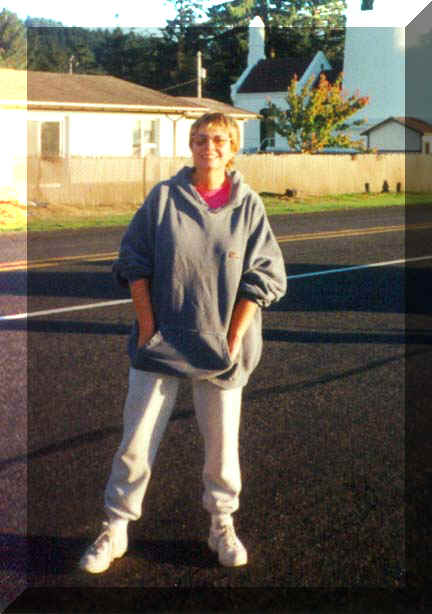 Here is a more recent picture of me
---
"One small voice in the darkness can light up the world"
Two years ago I was sitting in a hot tub, in Coos Bay, Oregon, minding my own business when this naked lady started talking to me. I wasn't in one of my talkative moods so I politely tried to ignore her. I'm sure she was aware of my attitude and yet she persisted. Then I heard the words, "60's and Los Angeles". So I asked, "Where did you go to high school?'
Since that time, Cathy Moody - Weckmann and her side - kick Ricky and I have become the best of buds. It feels like we've known each other all of our lives. We didn't even know each other in school. The great thing is, Cathy has enlarged my circle of Verdugan friends: Dee Jensen - Jackson, Sean Curtis, Brenda Clevenger and of course Omar. An underlying current that seems to be a constant is a lot of Verdugans is their sense of values: integrity, honesty and a willingness to laugh at oneself. Oh, and persistence --- Cathy's been after me for two years to write this.
Many years ago, I wouldn't have had a problem boasting about myself. However, the older I get the more I realize that I don't know much at all. Other "words of wisdom" that I believe in are: There are no coincidences. You reap what you sow. Follow your bliss. I'm a spiritual being having a physical experience. And the hardest one of all is you create everything that happens to you in your life. (Yucko)
Before I start to get carried away.... okay wake up out there.... I want to thank my circle of friends from high school. Fact: I wouldn't be alive today if you hadn't loved and supported me as you did. There is now I could have the nightly beatings, the sexual molestation's, the rapes and all the degradations of my childhood. You were a ray of light and you gave me hope.
One other footnote: When I was 19, I worked in a grocery store. I worked with Jeff who went to Our Lady of Lourdes with me. I tried to be friends with him but he made it clear that he was angry with me. One day, I found the courage to ask him if I had done something to offend him. He said "YES. In the second grade, you tattled on me and I will never forgive you". Well to everyone out there, if ever I have done something to offend or hurt you, I am really sorry. All I can say is that anger only hurts the one that is feeling it.
Today, a question that I continually ask my self is "Am I part of the problem or am I part of the solution?"
Two years ago I was minding my own business (Here we go again) when a co - worker cried for help. A 350 lb. patient was fainting on top of her. I did what anyone else would have done. I ran over and tried to lift the patient off of her. To say the least, my body will never be the same. Months later, when I was drowning in self pity and the "poor - me's", I decided to get a grip and do something positive. I'd push myself out the door and bring flowers to the local nursing homes. There is always someone worse off than you.
Now I am in the process of forming a non profit organization. This is in the formative stages and I am attempting to use the KIS method (KEEP IT SIMPLE). One of my main goals is to make sure no one is left alone in a nursing home or hospital without someone acknowledging them with a touch, card, balloon etc. Something that says, someone cares and you haven't been forgotten.
Case in point, Carlton. He has no legs. He has no family or friends. He lies flat on his back all day looking at a white ceiling and white walls. He is totally dependent on his overworked caregivers. When I first saw Carlton, his hands had an iron grip on his bedrails. It took me 20 minutes of messaging his hands before he would release them. His eyes were filled with fear and eventually he expressed to me how very frightened he was. I assured Carlton that I would visit him each week. The very next week, I found Carlton with his hands relaxed comfortably on his chest. When he saw me, he lit up like a Christmas tree. The only time he griped his hands was when I started to leave. Just two visits and a few cards made a difference in this man's life. Now whenever I start to feel sorry for myself, I think of Carlton and all the other discarded human beings.
I'd like to use this platform to call other Verdugan's of like mind, who would like to work with this idea and start something in your own area. Right now, I have contacted 50 people I know (policemen, fire captains, doctors, & business owners) and they are going to build unique and creative birdhouses and birdfeeders to place outside patients windows. This way, the patients have a visual contact with nature. That contact creates a healing environment which could momentarily pull the patient out of their own pain. This is where the nursing homes provide me with a monthly list of patients who are having birthdays and those who have no one. I am gathering names of people who want to send cards, balloons, etc.
If you are reading this then you have the ability to give someone a gift... you. If you are like me (God Help You!) it's not easy walking into a nursing home. When I first started going, I would run in and drop off flowers and then turn around and run out. In that belief that I wold be assaulted by these putrid smells that would make me gag. Then the visuals of people slouching in wheel chairs making these moaning sounds and reaching out to me. I felt ashamed of myself for feeling these things and grateful I didn't have to work in this type of environment. All I can say is..... it gets easier and easier each and every time. All of a sudden these sweet people become part of you. You look into their eyes and they are so grateful that your are there. Someone is acknowledging them, and offering a loving touch, bringing little goodies and letting them know they aren't dying alone. I promise you that it will be one of the most fulfilling things that you will ever do. If you are feeling a hole inside you, I guarantee you this will give you such joy.
---
Now something about my Verdugan Friends.....
Cathy Moody - Weckmann (W '68) sweet, adorable, soft - spoken (unless Mr. menopause appears), non - judgmental, supportive and a true friend.
Ricky Weckmann (W '68 Belmont High) alias Omar, a genius, thoughtful, introspective, gregarious, quiet (yeah right), outstanding actor (reminds me of Ernest Borgnine) and a true friend. These two are dynamos that prove true love is alive and well. (Oh... and generous... They are giving me their Pentium computer so I can get online.
Dee Jensen - Jackson (S '68) beautiful, courageous, powerful, supportive, kind, intelligent and a constant inspiration to me.
Sean Curtis (W '70) kind, supportive, intelligent & wise. A person I can always count on to offer words of truth and compassion. Someone who is visiting soon and who will teach me about web sites and downloading.
Brenda Krassie - Clevenger (S '68) inspiring, supportive, loving and very generous. Some who shares in my past and who continually amazes me in her generosity. I always love her little surprises that come in the mail.
---
Now my inspiration, my children.....
Lisa Antoinette, 27 years old. B.S. in Criminology. Recently quit her well paying job. Sold her beautiful car and all of her possessions. She is waiting to hear about her assignment in the Peace Corp... possibly in Central Asia.
Monique Nicole, 24 years old. B.S. in Marketing/World Trade. Lived in Barcelona for a year to go to college. Has traveled the world. Currently, she is stationed in Honduras with the Peace Corp.
Mark John, 21 years old. A.A. in Aviation, Commercial Pilot's License, Weather Briefer's License. Currently working on B.S. in Aerospace Engineering at Embry - Riddle in Arizona. Goal is to be an astronaut.
Susan Dougherty, 11 years old. My little friend for almost eight years. She continually shows me courage and inspiration whenever we go to visit our friends in the nursing homes.
---
I don't have an email address yet but messages can be sent to me in care of Cathy Moody - Weckmann. Her email address is:
You can send regular mail to me at the address below as well as call me at the phone number listed.
Kathy Cleary
1080 Montgomery
Coos Bay, OR 97420
541-888-8827
---
Be sure to visit my Picture Page by clicking on the link below.
---
[ Jeanne Ball - Reinhardt ] [ Ray Berndt ] [ Barbara Biglay ] [ Paula Broffman - Wilkes ] [ Jaime Conrad - Steele ] [ Bob Cook ] [ Jack D. Cooke ] [ Sean Curtis ] [ Sue DIllingham ] [ Christine Elliott - Roskilly ] [ Julie Fay ] [ Twila Fay - DeHass ] [ Bill Fesler ] [ Sharon Forbes - Mertens ] [ Steve Garrison ] [ Sharon Gibson - Pike ] [ William Grantham ] [ Karen Haaversen ] [ James Hoggatt ] [ Bill Hogue ] [ Debbie Howland ] [ Denise Jensen - Jackson ] [ Brenda Krassie - Clevenger ] [ Alan LaGreen ] [ Mike Latauska ] [ Steven A. Latauska ] [ Janice Allen - Lewandowski ] [ Henry "Hank" Lewandowski ] [ Madolyn Line - Nix ] [ Sherrie London ] [ Thomas MacCalla ] [ John Martinson ] [ Nancy Mashler - Reid ] [ Dawn McBee - Timmerman ] [ Patricia McCaskill ] [ Cathy Moody - Weckmann ] [ Rebecca Moody - Thomson ] [ Vivian Nunley - Schwartz ] [ Jose Ortiz ] [ Nadesan Permaul ] [ Sue Petrie ] [ Emily Pitt ] [ Jackie Puntar - Latauska ] [ Dave Robertson ] [ Chuck Schwartz ] [ Larry Schwartz ] [ Jenny Skogen - Manders ] [ Terry Thomson ] [ Kay Turner - Waggoner ] [ Ronald Turner ] [ David Walker ] [ Steve Walker ] [ Kathleen Weatherwax ] [ Martin"Marty" Weatherwax ] [ Kathy Weiczorek - Cleary ] [ Denise Welch - Van Eps ] [ Wendy Wexler ] [ Debbi White - Simpson ] [ Terry Whitaker ] [ Randy Zahn ] [ Editorial & Speak Out Page ] [ Alumni Bulletin Board ] [ Hits of the 1960's ] [ Jokes, Quotes & Sayings Page ] [ Memorial Page ] [ Picture Memorial Page 1 ] [ Picture Memorial Page 2 ] [ Picture Memorial Page 3 ] [ Picture Memorial Page 4 ] [ Vietnam Memorial Page ] [ Sunland Park Memorial Cleaned Up ] [ Dedications Section ] [ Nostalgia Page 1 ] [ Nostalgia Page 2 ] [ Nostalgia Page 3 ] [ Nostalgia Page 4 ] [ Nostalgia Page 5 ] [ Remember When? ] [ Remember When? Page 2 ] [ Remember When? Page 3 ] [ Remember When? Page 4 ] [ Remember When? Page 5 ] [ Remember When? Page 6 ] [ Remember When? Page 7 ] [ Remember When? Page 8 ] [ Remember When? Page 9 ] [ Remember When? Page 10 ] [ Remember When? Page 11 ] [ Remember When? Page 12 ] [ Remember When? Page 13 ] [ Novembers To Remember ] [ Our Teachers ] [ Our Teachers Page 2 ] [ Our Teachers Page 3 ] [ Our Teachers Page 4 ] [ Our Teachers Page 5 ] [ Our Teachers Page 6 ] [ Our Teachers Page 7 ] [ Our Teachers Page 8 ] [ Prom & Miscellaneous Picture Page ] [ Prom Pictures Page 2 ] [ Prom Pictures Page 3 ] [ Class of 1968 Reunion Picture Pages ] [ Class of 1969 Reunion Picture Pages ] [ Special Friends Of Our Classmates Section ] [ VHHS & Tujunga Today Page 1 ] [ A Trip Up Foothill Blvd Page 1 ] [ VHHS Class Plaques 1939 - 1961 Page 1 ] [ VHHS "Winter" Class Plaques 1939 - 1961 Page 1 ] [ Remembering 1968 Page 1 ] [ June 22nd, 1967 La Yuca Page 1 ] [ June 12, 1968 La Yuca Page 1 ] [ Record Ledger Clippings Page 1 ] [ 1967 Senior Wills Page 1 ] [ A Picture of Old Sunland - Tujunga ] [ A Very Special Reunion ] [ Attack On America Page 1 ] [ Ground Zero - New York Page 1 ] [ Veterans Day 2001 ] [ Classic Los Angeles Radio 1960's ] [ Some More Memories Page 1 ] [ VHHS 1950's Page 1 ] [ VHHS 1952 Page 1 ] [ VHHS 1952 Page 2 ] [ VHHS 1952 Page 3 ] [ VHHS 1956 Page 1 ] [ VHHS 1957 Page 1 ] [ 1952 Teachers Page 1 ] [ 1952 Teachers Page 2 ] [ 1952 Teachers Page 3 ] [ 1952 Teachers Page 4 ] [ 1952 Teachers Page 5 ] [ 1952 Teachers Page 6 ] [ 1952 Teachers Page 7 ] [ 1952 Teachers Page 8 ] [ 1952 Teachers Page 9 ] [ 1952 Teachers Page 10 ] [ 1952 Teachers Page 11 ] [ 1970 Grad Pictures Page 1 ] [ The WALL Page 1 ]