---
Debbie Howland - Wehmeyer
Class of 1970
---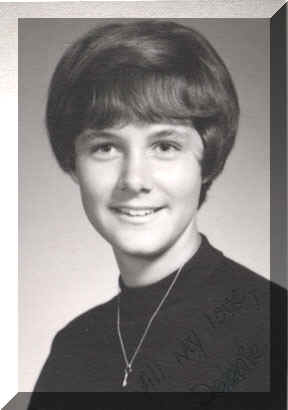 Hi everyone! I would really like to talk to my classmates that went to school with me during the 1960's. You may contact me at the following email address.
---
My Biography
Present – I attended Pinewood Elementary (Mr. Johnson & Mr. Sharpstein) and then went to Mount Gleason where I was in Mrs. Larson's homeroom. I didn't actually graduate from Verdugo with the class of 1970. Late in 1968 I moved to Northern California (Belmont) where I graduated in June of 1969 from Carlmont High School.
After a year of college in Northern California (College of San Mateo) I married Chris Blanchard (Verdugo class of 1968). We lived in Burbank for a short time until he joined the Navy. Chris and I had 3 boys (Craig – 1971, George – 1973 & Michael – 1975). We were married for 7 years.
In 1977 I married my current husband, Mickey Wehmeyer, in Honolulu, Hawaii. Mickey was also in the Navy (Submarine Service) so I was a 'Navy Wife' for 12 years. Mickey got out as a Chief Machinist Mate in 1982.
Mickey and I have one daughter (Erin – 1981) who was born on her brother Craig's 10th birthday! Mickey has 2 children from a previous marriage (Sean – 1971 and Shannon – 1974). Together we have 3 grandchildren with another one on the way this summer.
During the past 30 years I have moved (because of my husband's job) and unpacked in a new house 27 times. In 1970 I left home with 2 suitcases—in 1996 (our last move) we unpacked miscellaneous leftovers from 6 grown children and TRUCKLOADS of packing boxes. In 30 years we have lived from one side of the United States to the other (and a lot of places in between!). Now we are looking forward to seeing the rest of the world and we are not planning on taking all our STUFF with us anymore!
Other than moving and mothering, I have had my own business—designing, sewing and selling doll clothes—it was a very mobile business! In 1982 I learned to use computers (when we got our first one) and I have been growing with them every since. I went back to school in 1987 to learn computer graphics and desktop publishing and have worked using those skills to do marketing for engineers and architects the past 13 years.
I am currently working for a Landscape Architect in Vancouver, Washington where I create project renderings; proposals and presentations. I am also the Office Manager, but the majority of my time is spent on the computer.
Here's a list of where I've lived:
1970 – Burbank, CA
1971 – Great Lakes, IL
1971 – Vallejo, CA (2 different houses)
1972 – Saratoga Springs, NY
1973 – Groton, CT
1973 – New London, CT
1973 – Charleston, CT
1974-76 – Vallejo, CA (3 different houses)
1976-78 – Honolulu, HI (3 different houses)
1979-82 – Idaho Falls, ID
1982 – Jefferson City, MO
1983 – Cincinnati, OH
1983 – Shirley (Long Island), NY
1983-84 – Chestnut, IL
1984-86 – Mystic, CT
1986 – Cleveland, OH
1986 – Glendale, CA
1986-1991 – Everett, WA (3 different houses)
1991-Vancouver, WA (2 houses)
---
Please click on the hyperlink below to go to our childrens picture page.
---
[ Jeanne Ball - Reinhardt ] [ Ray Berndt ] [ Barbara Biglay ] [ Paula Broffman - Wilkes ] [ Jaime Conrad - Steele ] [ Bob Cook ] [ Jack D. Cooke ] [ Sean Curtis ] [ Sue DIllingham ] [ Christine Elliott - Roskilly ] [ Julie Fay ] [ Twila Fay - DeHass ] [ Bill Fesler ] [ Sharon Forbes - Mertens ] [ Steve Garrison ] [ Sharon Gibson - Pike ] [ William Grantham ] [ Karen Haaversen ] [ James Hoggatt ] [ Bill Hogue ] [ Debbie Howland ] [ Denise Jensen - Jackson ] [ Brenda Krassie - Clevenger ] [ Alan LaGreen ] [ Mike Latauska ] [ Steven A. Latauska ] [ Janice Allen - Lewandowski ] [ Henry "Hank" Lewandowski ] [ Madolyn Line - Nix ] [ Sherrie London ] [ Thomas MacCalla ] [ John Martinson ] [ Nancy Mashler - Reid ] [ Dawn McBee - Timmerman ] [ Patricia McCaskill ] [ Cathy Moody - Weckmann ] [ Rebecca Moody - Thomson ] [ Vivian Nunley - Schwartz ] [ Jose Ortiz ] [ Nadesan Permaul ] [ Sue Petrie ] [ Emily Pitt ] [ Jackie Puntar - Latauska ] [ Dave Robertson ] [ Chuck Schwartz ] [ Larry Schwartz ] [ Jenny Skogen - Manders ] [ Terry Thomson ] [ Kay Turner - Waggoner ] [ Ronald Turner ] [ David Walker ] [ Steve Walker ] [ Kathleen Weatherwax ] [ Martin"Marty" Weatherwax ] [ Kathy Weiczorek - Cleary ] [ Denise Welch - Van Eps ] [ Wendy Wexler ] [ Debbi White - Simpson ] [ Terry Whitaker ] [ Randy Zahn ] [ Editorial & Speak Out Page ] [ Alumni Bulletin Board ] [ Hits of the 1960's ] [ Jokes, Quotes & Sayings Page ] [ Memorial Page ] [ Picture Memorial Page 1 ] [ Picture Memorial Page 2 ] [ Picture Memorial Page 3 ] [ Picture Memorial Page 4 ] [ Vietnam Memorial Page ] [ Sunland Park Memorial Cleaned Up ] [ Dedications Section ] [ Nostalgia Page 1 ] [ Nostalgia Page 2 ] [ Nostalgia Page 3 ] [ Nostalgia Page 4 ] [ Nostalgia Page 5 ] [ Remember When? ] [ Remember When? Page 2 ] [ Remember When? Page 3 ] [ Remember When? Page 4 ] [ Remember When? Page 5 ] [ Remember When? Page 6 ] [ Remember When? Page 7 ] [ Remember When? Page 8 ] [ Remember When? Page 9 ] [ Remember When? Page 10 ] [ Remember When? Page 11 ] [ Remember When? Page 12 ] [ Remember When? Page 13 ] [ Novembers To Remember ] [ Our Teachers ] [ Our Teachers Page 2 ] [ Our Teachers Page 3 ] [ Our Teachers Page 4 ] [ Our Teachers Page 5 ] [ Our Teachers Page 6 ] [ Our Teachers Page 7 ] [ Our Teachers Page 8 ] [ Prom & Miscellaneous Picture Page ] [ Prom Pictures Page 2 ] [ Prom Pictures Page 3 ] [ Class of 1968 Reunion Picture Pages ] [ Class of 1969 Reunion Picture Pages ] [ Special Friends Of Our Classmates Section ] [ VHHS & Tujunga Today Page 1 ] [ A Trip Up Foothill Blvd Page 1 ] [ VHHS Class Plaques 1939 - 1961 Page 1 ] [ VHHS "Winter" Class Plaques 1939 - 1961 Page 1 ] [ Remembering 1968 Page 1 ] [ June 22nd, 1967 La Yuca Page 1 ] [ June 12, 1968 La Yuca Page 1 ] [ Record Ledger Clippings Page 1 ] [ 1967 Senior Wills Page 1 ] [ A Picture of Old Sunland - Tujunga ] [ A Very Special Reunion ] [ Attack On America Page 1 ] [ Ground Zero - New York Page 1 ] [ Veterans Day 2001 ] [ Classic Los Angeles Radio 1960's ] [ Some More Memories Page 1 ] [ VHHS 1950's Page 1 ] [ VHHS 1952 Page 1 ] [ VHHS 1952 Page 2 ] [ VHHS 1952 Page 3 ] [ VHHS 1956 Page 1 ] [ VHHS 1957 Page 1 ] [ 1952 Teachers Page 1 ] [ 1952 Teachers Page 2 ] [ 1952 Teachers Page 3 ] [ 1952 Teachers Page 4 ] [ 1952 Teachers Page 5 ] [ 1952 Teachers Page 6 ] [ 1952 Teachers Page 7 ] [ 1952 Teachers Page 8 ] [ 1952 Teachers Page 9 ] [ 1952 Teachers Page 10 ] [ 1952 Teachers Page 11 ] [ 1970 Grad Pictures Page 1 ] [ The WALL Page 1 ]