---
Rebecca Moody - Thomson
Class of 1969
---
Hi and welcome to my page on this Alumni WebSite.
Here is my Bio since VHHS
During my senior year at VHHS, I was a cashier at the Lucky store in La
Crescenta. This is where I met my husband, Terry Thomson. Terry and I
married in April of 1970, at Fort Ord while he was the Army. For the next 15
years, I was a wife and a mother. We have two children, Trent and Stephanie.

In 1989, I began a career with House of Fabrics. I was a store manager in
Glendale and then in Northridge. During this time, I introduced a program to the store that provided sewing classes to children. I hired an excellent
teacher to teach these classes and happily watched her classes grow in
popularity. After about 3 years, I became disenchanted with the corporate
world and the management aspect of the store and began looking into teaching these same types of sewing classes myself. I left House of Fabrics in 1991, and began my own business teaching sewing to children and adults. I have thoroughly enjoyed this career change and have recently expanded my teaching skills to include quilting. I take pride in the fact that some of my students have been with me for the past seven years while others have gone on to begin careers of their own in Fashion Design.

Terry and I live in Castaic and will be celebrating our 30th wedding
anniversary this April 2000. We have four grandchildren - all girls. My
daughter Kim, has three daughters, ages 10, 7, and 8 months. Our daughter
Stephanie, has one daughter, age 19 mos. We told our son, Trent, it is up to him to have the boys. No sign of that happening yet!

Terry and I love to travel and have been fortunate to have gone many places. Some of our most treasured travel memories include our trip to Toronto, Ottawa, Montreal, Halifax, and Prince Edward Island in Canada and then down the New England Coast. Other favored trips include travels to Texas, Hawaii, Alaska, Oregon, Washington, DC, Washington State, Idaho, Montana, Wyoming, Utah, Colorado, Arizona, New Mexico, and Florida. Some of the most spectacular sights we've had the privilege of seeing include Mt. St. Helens, Yellowstone, the Grand Tetons, and Glacier National Park. The "Inside Passage" on the way to Alaska with it's Fjords and Glaciers was beyond belief! We are planning future trips to the Panama Canal, and eventually to England, Ireland and Scotland (where we will impose upon the hospitality of my husband's best friend from High School, Randy Zahn)

We enjoy being grandparents and look forward to watching our grandchildren grow and becoming adults.


Here is my email address:
---
Here is a photo on my wedding day of my husband, Terry Thomson and me. Terry also attended Verdugo Hills High School.
---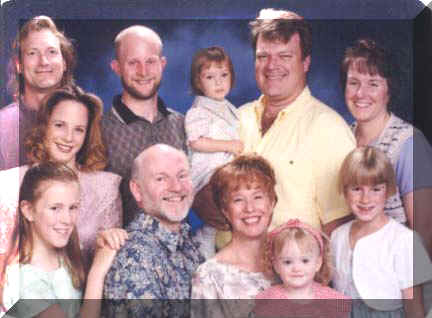 We have come a long way since our wedding picture was taken. Here is the most recent photograph of our family.
---
To see more pictures, click on the link below
---
We currently live in Castaic, California
[ Jeanne Ball - Reinhardt ] [ Ray Berndt ] [ Barbara Biglay ] [ Paula Broffman - Wilkes ] [ Jaime Conrad - Steele ] [ Bob Cook ] [ Jack D. Cooke ] [ Sean Curtis ] [ Sue DIllingham ] [ Christine Elliott - Roskilly ] [ Julie Fay ] [ Twila Fay - DeHass ] [ Bill Fesler ] [ Sharon Forbes - Mertens ] [ Steve Garrison ] [ Sharon Gibson - Pike ] [ William Grantham ] [ Karen Haaversen ] [ James Hoggatt ] [ Bill Hogue ] [ Debbie Howland ] [ Denise Jensen - Jackson ] [ Brenda Krassie - Clevenger ] [ Alan LaGreen ] [ Mike Latauska ] [ Steven A. Latauska ] [ Janice Allen - Lewandowski ] [ Henry "Hank" Lewandowski ] [ Madolyn Line - Nix ] [ Sherrie London ] [ Thomas MacCalla ] [ John Martinson ] [ Nancy Mashler - Reid ] [ Dawn McBee - Timmerman ] [ Patricia McCaskill ] [ Cathy Moody - Weckmann ] [ Rebecca Moody - Thomson ] [ Vivian Nunley - Schwartz ] [ Jose Ortiz ] [ Nadesan Permaul ] [ Sue Petrie ] [ Emily Pitt ] [ Jackie Puntar - Latauska ] [ Dave Robertson ] [ Chuck Schwartz ] [ Larry Schwartz ] [ Jenny Skogen - Manders ] [ Terry Thomson ] [ Kay Turner - Waggoner ] [ Ronald Turner ] [ David Walker ] [ Steve Walker ] [ Kathleen Weatherwax ] [ Martin"Marty" Weatherwax ] [ Kathy Weiczorek - Cleary ] [ Denise Welch - Van Eps ] [ Wendy Wexler ] [ Debbi White - Simpson ] [ Terry Whitaker ] [ Randy Zahn ] [ Editorial & Speak Out Page ] [ Alumni Bulletin Board ] [ Hits of the 1960's ] [ Jokes, Quotes & Sayings Page ] [ Memorial Page ] [ Picture Memorial Page 1 ] [ Picture Memorial Page 2 ] [ Picture Memorial Page 3 ] [ Picture Memorial Page 4 ] [ Vietnam Memorial Page ] [ Sunland Park Memorial Cleaned Up ] [ Dedications Section ] [ Nostalgia Page 1 ] [ Nostalgia Page 2 ] [ Nostalgia Page 3 ] [ Nostalgia Page 4 ] [ Nostalgia Page 5 ] [ Remember When? ] [ Remember When? Page 2 ] [ Remember When? Page 3 ] [ Remember When? Page 4 ] [ Remember When? Page 5 ] [ Remember When? Page 6 ] [ Remember When? Page 7 ] [ Remember When? Page 8 ] [ Remember When? Page 9 ] [ Remember When? Page 10 ] [ Remember When? Page 11 ] [ Remember When? Page 12 ] [ Remember When? Page 13 ] [ Novembers To Remember ] [ Our Teachers ] [ Our Teachers Page 2 ] [ Our Teachers Page 3 ] [ Our Teachers Page 4 ] [ Our Teachers Page 5 ] [ Our Teachers Page 6 ] [ Our Teachers Page 7 ] [ Our Teachers Page 8 ] [ Prom & Miscellaneous Picture Page ] [ Prom Pictures Page 2 ] [ Prom Pictures Page 3 ] [ Class of 1968 Reunion Picture Pages ] [ Class of 1969 Reunion Picture Pages ] [ Special Friends Of Our Classmates Section ] [ VHHS & Tujunga Today Page 1 ] [ A Trip Up Foothill Blvd Page 1 ] [ VHHS Class Plaques 1939 - 1961 Page 1 ] [ VHHS "Winter" Class Plaques 1939 - 1961 Page 1 ] [ Remembering 1968 Page 1 ] [ June 22nd, 1967 La Yuca Page 1 ] [ June 12, 1968 La Yuca Page 1 ] [ Record Ledger Clippings Page 1 ] [ 1967 Senior Wills Page 1 ] [ A Picture of Old Sunland - Tujunga ] [ A Very Special Reunion ] [ Attack On America Page 1 ] [ Ground Zero - New York Page 1 ] [ Veterans Day 2001 ] [ Classic Los Angeles Radio 1960's ] [ Some More Memories Page 1 ] [ VHHS 1950's Page 1 ] [ VHHS 1952 Page 1 ] [ VHHS 1952 Page 2 ] [ VHHS 1952 Page 3 ] [ VHHS 1956 Page 1 ] [ VHHS 1957 Page 1 ] [ 1952 Teachers Page 1 ] [ 1952 Teachers Page 2 ] [ 1952 Teachers Page 3 ] [ 1952 Teachers Page 4 ] [ 1952 Teachers Page 5 ] [ 1952 Teachers Page 6 ] [ 1952 Teachers Page 7 ] [ 1952 Teachers Page 8 ] [ 1952 Teachers Page 9 ] [ 1952 Teachers Page 10 ] [ 1952 Teachers Page 11 ] [ 1970 Grad Pictures Page 1 ] [ The WALL Page 1 ]