---
Emily Pitt
Class of 1967
---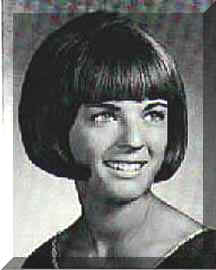 Hello and Welcome!
I am just getting this page started and will have some pictures up really soon.
---
My Short Biography
After graduation I attended Glendale College where I met a very nice man,
Richard Burt, class of 67 at Crescenta Valley. Richard and I were married
December 1969 and moved to Colorado Springs where he was stationed with the Air Force. We had two children Jennifer now 27 and Daniel now 25. We divorced in 1977, and are still good friends.

I remarried in 1979, and moved to Australia two weeks later. Although the
marriage was a mistake from the beginning the time in Australia was wonderful and while there I had another child, Lindsay who is now 19.
We were able to see a lot of Australia and met some wonderful people, I still
am in contact with Jennifer's year 3 teacher, she and her husband have
visited me twice here in the States.

After my second divorce, in 1985, I needed a change of scenery, I put most of my possessions in storage packed up the kids and the dog and came to Colorado in a 20 year old VW that wouldn't turn off and not much money in my pocket. It was an amazing adventure, not one that I would repeat, but it turned out well. I was sure that my son was going to grow up to be an ax murderer, instead he graduated from the University of New Mexico, Fine Arts Major.

I live in what was a small town just south of Colorado Springs, it is growing
too fast for me. I am active with the Volunteer Fire Department here, not as
a Firefighter but as a member of a support group, we feed, and provide drinks for the firefighters when the are on an extended call. I work in Colorado Springs at the local Cable Company, I love free cable, that has kept me there for the last 9 years.

My family has grown, it now includes a son in law, Bryan (Jen's husband}, a grand daughter, Bryanne, Bryan's daughter from a previous relationship, and a new grand son Logan. D.J. (Daniel), has a dog Misha that is more like another grandchild, and Lindsay has her intended, Josh, who is like having another son.
---
You can email me by clicking on the little mail slot below

---
[ Jeanne Ball - Reinhardt ] [ Ray Berndt ] [ Barbara Biglay ] [ Paula Broffman - Wilkes ] [ Jaime Conrad - Steele ] [ Bob Cook ] [ Jack D. Cooke ] [ Sean Curtis ] [ Sue DIllingham ] [ Christine Elliott - Roskilly ] [ Julie Fay ] [ Twila Fay - DeHass ] [ Bill Fesler ] [ Sharon Forbes - Mertens ] [ Steve Garrison ] [ Sharon Gibson - Pike ] [ William Grantham ] [ Karen Haaversen ] [ James Hoggatt ] [ Bill Hogue ] [ Debbie Howland ] [ Denise Jensen - Jackson ] [ Brenda Krassie - Clevenger ] [ Alan LaGreen ] [ Mike Latauska ] [ Steven A. Latauska ] [ Janice Allen - Lewandowski ] [ Henry "Hank" Lewandowski ] [ Madolyn Line - Nix ] [ Sherrie London ] [ Thomas MacCalla ] [ John Martinson ] [ Nancy Mashler - Reid ] [ Dawn McBee - Timmerman ] [ Patricia McCaskill ] [ Cathy Moody - Weckmann ] [ Rebecca Moody - Thomson ] [ Vivian Nunley - Schwartz ] [ Jose Ortiz ] [ Nadesan Permaul ] [ Sue Petrie ] [ Emily Pitt ] [ Jackie Puntar - Latauska ] [ Dave Robertson ] [ Chuck Schwartz ] [ Larry Schwartz ] [ Jenny Skogen - Manders ] [ Terry Thomson ] [ Kay Turner - Waggoner ] [ Ronald Turner ] [ David Walker ] [ Steve Walker ] [ Kathleen Weatherwax ] [ Martin"Marty" Weatherwax ] [ Kathy Weiczorek - Cleary ] [ Denise Welch - Van Eps ] [ Wendy Wexler ] [ Debbi White - Simpson ] [ Terry Whitaker ] [ Randy Zahn ] [ Editorial & Speak Out Page ] [ Alumni Bulletin Board ] [ Hits of the 1960's ] [ Jokes, Quotes & Sayings Page ] [ Memorial Page ] [ Picture Memorial Page 1 ] [ Picture Memorial Page 2 ] [ Picture Memorial Page 3 ] [ Picture Memorial Page 4 ] [ Vietnam Memorial Page ] [ Sunland Park Memorial Cleaned Up ] [ Dedications Section ] [ Nostalgia Page 1 ] [ Nostalgia Page 2 ] [ Nostalgia Page 3 ] [ Nostalgia Page 4 ] [ Nostalgia Page 5 ] [ Remember When? ] [ Remember When? Page 2 ] [ Remember When? Page 3 ] [ Remember When? Page 4 ] [ Remember When? Page 5 ] [ Remember When? Page 6 ] [ Remember When? Page 7 ] [ Remember When? Page 8 ] [ Remember When? Page 9 ] [ Remember When? Page 10 ] [ Remember When? Page 11 ] [ Remember When? Page 12 ] [ Remember When? Page 13 ] [ Novembers To Remember ] [ Our Teachers ] [ Our Teachers Page 2 ] [ Our Teachers Page 3 ] [ Our Teachers Page 4 ] [ Our Teachers Page 5 ] [ Our Teachers Page 6 ] [ Our Teachers Page 7 ] [ Our Teachers Page 8 ] [ Prom & Miscellaneous Picture Page ] [ Prom Pictures Page 2 ] [ Prom Pictures Page 3 ] [ Class of 1968 Reunion Picture Pages ] [ Class of 1969 Reunion Picture Pages ] [ Special Friends Of Our Classmates Section ] [ VHHS & Tujunga Today Page 1 ] [ A Trip Up Foothill Blvd Page 1 ] [ VHHS Class Plaques 1939 - 1961 Page 1 ] [ VHHS "Winter" Class Plaques 1939 - 1961 Page 1 ] [ Remembering 1968 Page 1 ] [ June 22nd, 1967 La Yuca Page 1 ] [ June 12, 1968 La Yuca Page 1 ] [ Record Ledger Clippings Page 1 ] [ 1967 Senior Wills Page 1 ] [ A Picture of Old Sunland - Tujunga ] [ A Very Special Reunion ] [ Attack On America Page 1 ] [ Ground Zero - New York Page 1 ] [ Veterans Day 2001 ] [ Classic Los Angeles Radio 1960's ] [ Some More Memories Page 1 ] [ VHHS 1950's Page 1 ] [ VHHS 1952 Page 1 ] [ VHHS 1952 Page 2 ] [ VHHS 1952 Page 3 ] [ VHHS 1956 Page 1 ] [ VHHS 1957 Page 1 ] [ 1952 Teachers Page 1 ] [ 1952 Teachers Page 2 ] [ 1952 Teachers Page 3 ] [ 1952 Teachers Page 4 ] [ 1952 Teachers Page 5 ] [ 1952 Teachers Page 6 ] [ 1952 Teachers Page 7 ] [ 1952 Teachers Page 8 ] [ 1952 Teachers Page 9 ] [ 1952 Teachers Page 10 ] [ 1952 Teachers Page 11 ] [ 1970 Grad Pictures Page 1 ]