---
The Sunland - Tujunga Area in the 1950's & 1960's
(and even a little earlier)
---
As we go down Memory Lane in our minds, Cathy Moody - Weckmann sent some very interesting pictures down from the 1950's & 1960's. The pictures here are from the Sunland - Tujunga area. We hope that you enjoy them and if you have any pictures that you would like to see here, please send them to Sean Curtis or Cathy Moody.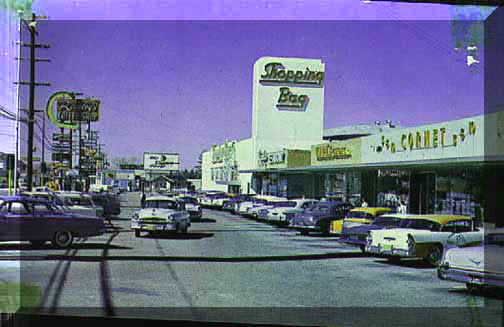 The picture above is of the old Shopping Bag Market in Sunland in 1962
---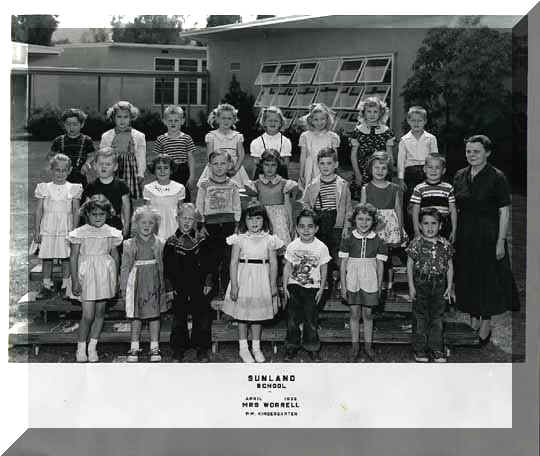 In the above picture, Cathy Moody is the little girl with blonde hair and wearing a little frown in the first row, second from the left. This was her Kindergarten class at Sunland School in 1955.
---
In the picture above, can you find Debbi White? You can find Debbi standing next to a little boy and then her teacher. This is Debbi's 3rd grade class at Sunland School in 1958.
---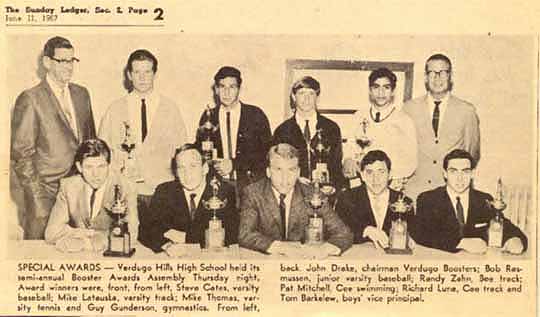 In the above picture, we see some of our fellow classmates at the annual Booster Awards Assembly on June 11th, 1967. Thanks to Randy Zahn for sending this over.
---
[ Jeanne Ball - Reinhardt ] [ Ray Berndt ] [ Barbara Biglay ] [ Paula Broffman - Wilkes ] [ Jaime Conrad - Steele ] [ Bob Cook ] [ Jack D. Cooke ] [ Sean Curtis ] [ Sue DIllingham ] [ Christine Elliott - Roskilly ] [ Julie Fay ] [ Twila Fay - DeHass ] [ Bill Fesler ] [ Sharon Forbes - Mertens ] [ Steve Garrison ] [ Sharon Gibson - Pike ] [ William Grantham ] [ Karen Haaversen ] [ James Hoggatt ] [ Bill Hogue ] [ Debbie Howland ] [ Denise Jensen - Jackson ] [ Brenda Krassie - Clevenger ] [ Alan LaGreen ] [ Mike Latauska ] [ Steven A. Latauska ] [ Janice Allen - Lewandowski ] [ Henry "Hank" Lewandowski ] [ Madolyn Line - Nix ] [ Sherrie London ] [ Thomas MacCalla ] [ John Martinson ] [ Nancy Mashler - Reid ] [ Dawn McBee - Timmerman ] [ Patricia McCaskill ] [ Cathy Moody - Weckmann ] [ Rebecca Moody - Thomson ] [ Vivian Nunley - Schwartz ] [ Jose Ortiz ] [ Nadesan Permaul ] [ Sue Petrie ] [ Emily Pitt ] [ Jackie Puntar - Latauska ] [ Dave Robertson ] [ Chuck Schwartz ] [ Larry Schwartz ] [ Jenny Skogen - Manders ] [ Terry Thomson ] [ Kay Turner - Waggoner ] [ Ronald Turner ] [ David Walker ] [ Steve Walker ] [ Kathleen Weatherwax ] [ Martin"Marty" Weatherwax ] [ Kathy Weiczorek - Cleary ] [ Denise Welch - Van Eps ] [ Wendy Wexler ] [ Debbi White - Simpson ] [ Terry Whitaker ] [ Randy Zahn ] [ Editorial & Speak Out Page ] [ Alumni Bulletin Board ] [ Hits of the 1960's ] [ Jokes, Quotes & Sayings Page ] [ Memorial Page ] [ Picture Memorial Page 1 ] [ Picture Memorial Page 2 ] [ Picture Memorial Page 3 ] [ Picture Memorial Page 4 ] [ Vietnam Memorial Page ] [ Sunland Park Memorial Cleaned Up ] [ Dedications Section ] [ Nostalgia Page 1 ] [ Nostalgia Page 2 ] [ Nostalgia Page 3 ] [ Nostalgia Page 4 ] [ Nostalgia Page 5 ] [ Remember When? ] [ Remember When? Page 2 ] [ Remember When? Page 3 ] [ Remember When? Page 4 ] [ Remember When? Page 5 ] [ Remember When? Page 6 ] [ Remember When? Page 7 ] [ Remember When? Page 8 ] [ Remember When? Page 9 ] [ Remember When? Page 10 ] [ Remember When? Page 11 ] [ Remember When? Page 12 ] [ Remember When? Page 13 ] [ Novembers To Remember ] [ Our Teachers ] [ Our Teachers Page 2 ] [ Our Teachers Page 3 ] [ Our Teachers Page 4 ] [ Our Teachers Page 5 ] [ Our Teachers Page 6 ] [ Our Teachers Page 7 ] [ Our Teachers Page 8 ] [ Prom & Miscellaneous Picture Page ] [ Prom Pictures Page 2 ] [ Prom Pictures Page 3 ] [ Class of 1968 Reunion Picture Pages ] [ Class of 1969 Reunion Picture Pages ] [ Special Friends Of Our Classmates Section ] [ VHHS & Tujunga Today Page 1 ] [ A Trip Up Foothill Blvd Page 1 ] [ VHHS Class Plaques 1939 - 1961 Page 1 ] [ VHHS "Winter" Class Plaques 1939 - 1961 Page 1 ] [ Remembering 1968 Page 1 ] [ June 22nd, 1967 La Yuca Page 1 ] [ June 12, 1968 La Yuca Page 1 ] [ Record Ledger Clippings Page 1 ] [ 1967 Senior Wills Page 1 ] [ A Picture of Old Sunland - Tujunga ] [ A Very Special Reunion ] [ Attack On America Page 1 ] [ Ground Zero - New York Page 1 ] [ Veterans Day 2001 ] [ Classic Los Angeles Radio 1960's ] [ Some More Memories Page 1 ] [ VHHS 1950's Page 1 ] [ VHHS 1952 Page 1 ] [ VHHS 1952 Page 2 ] [ VHHS 1952 Page 3 ] [ VHHS 1956 Page 1 ] [ VHHS 1957 Page 1 ] [ 1952 Teachers Page 1 ] [ 1952 Teachers Page 2 ] [ 1952 Teachers Page 3 ] [ 1952 Teachers Page 4 ] [ 1952 Teachers Page 5 ] [ 1952 Teachers Page 6 ] [ 1952 Teachers Page 7 ] [ 1952 Teachers Page 8 ] [ 1952 Teachers Page 9 ] [ 1952 Teachers Page 10 ] [ 1952 Teachers Page 11 ] [ 1970 Grad Pictures Page 1 ] [ The WALL Page 1 ]